Parcours Santé™/Fitness Trail
Intergenerational Exercise
The Parcours Santé™/Fitness Trail guides users through 12 safe physical exercise routines. Inspired by tai­chi, they involve:
Warm­up
Muscle toning
Flexibility
Designed in collaboration with a health professional, the Parcours Santé™/Fitness Trail exercise stations consist of 4 independent stations for adults from the ages of 18 to 98! After all, playing, being in good health, and physical activity are good at any age.
These 3 exercise groups contribute to good cardio­vascular health, improve blood circulation and add to arm and leg strength. The Parcours Santé™/Fitness Trail is relaxing while increasing energy, helping to reduce stress and making you feel good about yourself.
Every adult, no matter what age, will find the right challenge in one of the three levels of intensity that are offered. All the user needs are comfortable clothes and good shoes.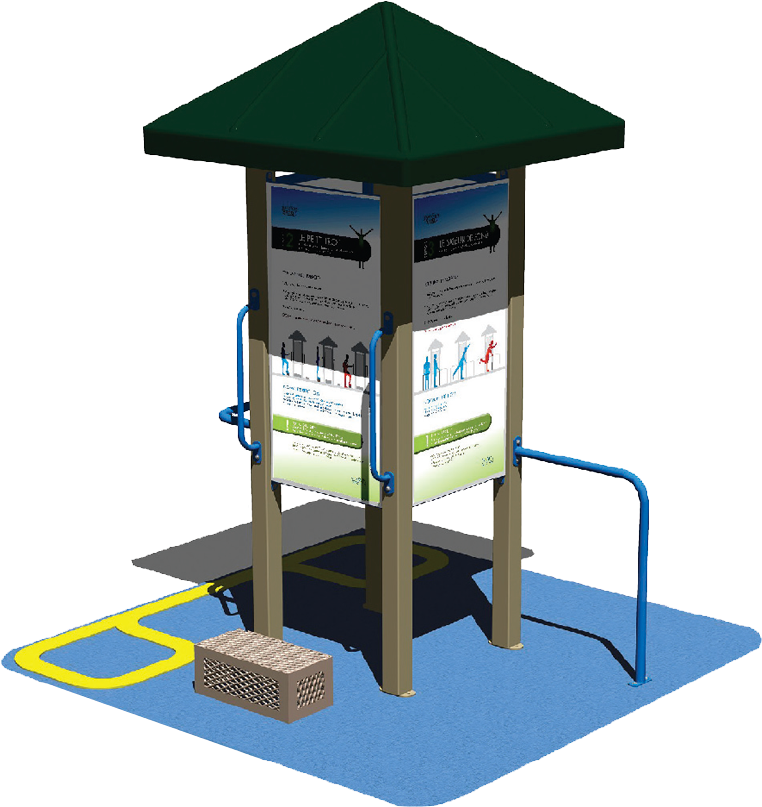 Station 1
Warm­Up Station
1)

Balance test

2)

Easy up and down

3)

Cross­country ski
Station 2
Toning Station
4)

Washboard abs

5)

Arms of steel

6)

Thigh blaster
Station 3
Toning Station
7)

The plank

8)

Ankle strengthener

9)

Waist trimmer

(flexibility)

Station 4
Flexibility Station
10)

The calf stretch

11)

The home stretch

12)

A fine figure
7 good reasons to get a Parcours Santé™/Fitness Trail
Easy integration into parks for intergenerational use, from tots to seniors.
Interesting and accessible challenge for adults, young and old.
Twelve exercise possibilities, with three intensity levels.
Extension of home exercise regimen, providing daily guidance.
Trail may be bought in whole or in part.
Grants peace of mind, meeting applicable CSA/Z614 standards.
Eligible for the Québec MADA grant.
Safe for kids
We want our Parcours ­Santé™/Fitness Trail to benefit young children so we designed it to meet the Canadian safety standard CSA­Z614. That means it's also safe for children and small children who may be just watching or playing nearby. It has passed all tests for protection of head, neck, fingers, choking, and so on, ensuring the pleasant enjoyment of a multi­generational park.
We are proud pioneers in the field of outdoor physical training, and the first in Canada.
We didn't start making playgrounds that are accessible to all just yesterday.
Working in collaboration with Kino­Québec, we created the Parcours Santé™/Fitness Trail to encourage adults to adopt and maintain active lives. The very first was installed in Victoriaville in 1991.
Our Parcours Santé™/Fitness Trail has achieved international recognition. Several are placed in green spaces in Japan, the first in 1991. We are pleased that several others are placed in the Land of the Rising Sun.
We revised the exercises 18 years later, again with the collaboration of a health professional. We now also offer the program in a compact version to better respond to market demands.
Victoriaville 1991
Tokyo 1995
St-Charles-Borromée 2005
St-Étienne-des-Grès 2013