Our co-designers are our clients
Designing a playground takes a little time, and a lot of imagination. Here are the factors to take into account when fashioning a course that'll make you go "Wow!".
Building a fun playground
You start on a set of stairs, on a climber or a climbing wall. You get out down a slide or fire pole… Kids like play areas with lots of entries and exits the most: all the possibilities are fodder for their vibrant imaginations. Whether alone or with others, the child is off on a little adventure that can be re-invented every day at the playground.
---
First step
Imagine your playground
We have a lot of different play components such as crossings, bridges, tunnels, slides, upper body componans, climbers, play panels, roofs, along with access elements at various height levels. Put a combination of these together to construct a playstructure full of unique experiences. A variety of entries and exits adds a lot of fun.
Playstructure components
Here are the main components of a play set. Learn what they do and see how they could make yours the best ever!
---
Climbers

You use all your limbs on a climber. They're more difficult to master but quite gratifying when you do, especially when combined with a balance element. They can also be used, although more unconventionally, as an exit.
---
Bridges and crossings

Bridges and crossings allow the imaginary discovery of new territory, the achievement of a new goal, or winning the game! They take kids to new heights and improve balance.
---
Tunnels

Crawling is a natural part of play and tunnels are natural passageways to new secret worlds. Sneaking quietly into another part of the play area or just finding a place to hide, tunnels were made for the mischief in children!
---
Suspension

Whatever you do, don't touch the ground! That's the game that upper body componants (varied configurations of horizontal ladders, crossings, rings, cables) create. Get across with upper body movements that stretch, bend, curl and turn. It also teaches perseverance!
---
Panels

Play panels are essential safety elements on a playstructure, but we've made them more attractive in order to integrate them into the visual design as well as into the action. Up high or down low, they add new ways to play: role games, meet-up points and start-outs for adventure!
---
Roofs and decorations

Roofs and decorations dress up a play set and stimulate the imaginations of children. On sunny days, they give a little cool shade for the busiest adventurers!
---
Slides

Slide away! No doubt about it, the most popular way out, and the fastest, is the slide. Making a getaway or coming to the rescue, little superheroes love to make their entrance this way. Straight, wavy, curved, spiral, double or triple, no matter the height, everybody loves to take the slide. A sure source of "yahooo"!
A few tips…check these out!
Vary the positions of the entry and exit points on your play set.
Avoid repetitive activities so your play set has diverse looks and things to do.
"Don't touch the ground" is a challenge ffreestanding playstructures and Go-Hop playstructures.
Have a theme in mind? We can suggest quite a few!
We can customize your play set by adding your logo!
Second step
Keep them playing
Beyond playstructures
Playgrounds are not necessarily defined by playstructures alone. There are other types of equipment that bring other elements to keep playtime going.
With a play set serving as a central "hotspot," the rest of the playground will be well-served by other modules (as the children run from one activity to another). Go-Hop playstructures and freestanding playstructures present a diversity of play opportunities at ground level. They also present activity options for children of age groups different from that targeted by the play set.
A playground with no playstructures! Why not?
Some of our customers choose to set up a playground that's full of activities…but doesn't include a play set at all.
A number of freestanding playstructures featuring specific activities constitute a fun playground just fine. Think of having swings, bouncers, and climbers along with exercise equipment at ground level.
---
The Go-Hop playstructures : playing a little longer

Connected to your playstructure can be an Go-Hop playstructure which can extend the recreation experience begun on the play set.
When configured together into, for instance, a closed circle, the play can continue without touching the ground at all!
Pre-adolescents (9 years and +) tend to want to test their limits. They find Go-Hop playstructures to be more challenging than any other similar play set that they've ever tried in their young lives.
Physical educators find this "athletic" type of play very appealing.
---
Freestanding playstructures

These are independent activities, complete unto themselves.
They can be aimed at involving age groups separate from that for which the playstructure is intended. Some freestanding playstructures offer activities that are more individual in nature: bouncers, swings, etc.
Others invite group play: the Hat Trick, bouncers like the Fire Truck, climbers, and so on.
Spice up the recipe even more with role-playing and imagination games: play-houses and lunch counters, the backhoe, the squad car, etc.
Ball games like soccer and basketball are great for developing team spirit and cardiovascular health.
Other ball activities like double punching bags and tetherball are great for developing dexterity and just having fun.
Third step
Rest area
Put the final touch on equipping your playground with a rest area.
Benches and picnic tables are great pit stops to relax, chat or take a snack break, appreciated by children, parents and grandparents alike. lienLitter receptacles will help keep your space clean. Think kindly about those who pedal to the park, too. Provide them with bike stands.
Every single project is unique!!!
Here are a few examples of playgrounds we've co-created with our customers; they're all different, yet may be of comparable scope.
A-1156-3-5
This playground has 6 Freestanding playstructures (2 climbers, 2 spinners, 2 slides) and Outdoor Site Furnishings
A-2807-A
This playground features has a Puzzle Plus playstructure, 3 Freestanding playstructures (2 climbers and 1 swing set) plus Outdoor Site Furnishings
A-2848-2
This playground has a swing set and Outdoor Site Furnishings.
A-2946-1
This playground has an Activity Course, 5 Freestanding playstructures (3 swings sets, 3 climbers) and Outdoor Site Furnishings.
A-2983
This playground has a Puzzle Plus playstructure, 1 Activity Course, 1 Freestanding playstructure and Outdoor Site Furnishings.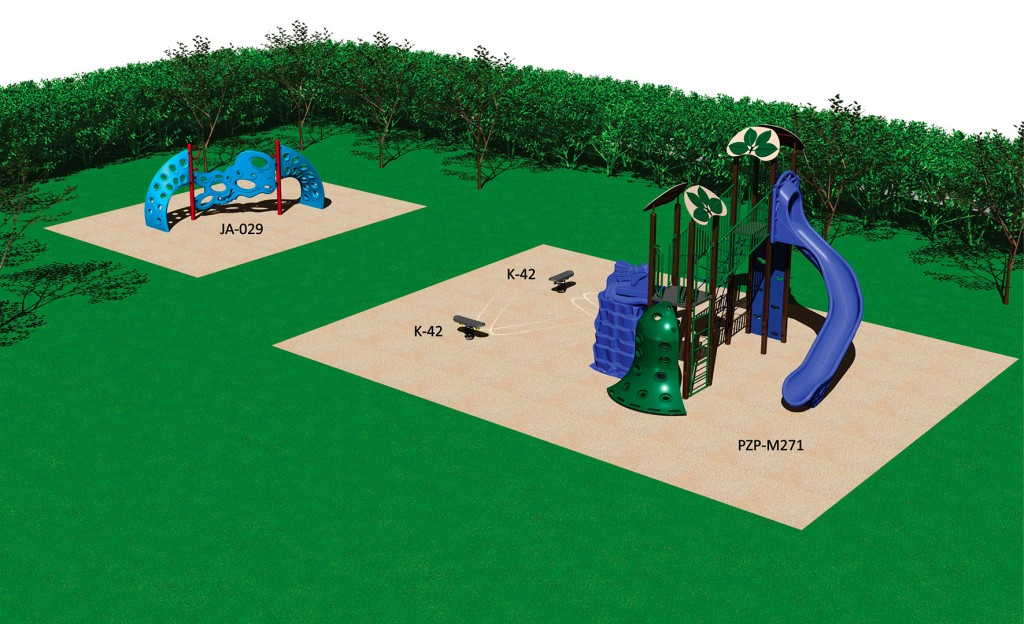 A-3000-1
Two playgrounds with a Puzzle Plus playstructure and 3 Freestanding playstructures (1 climber and 1 extreme swing)
A-3015-1
This playground features has a Puzzle Plus playstructure and Outdoor Site Furnishings
A-3017-6B
This playground has a Puzzle Plus playstructure, 1 Activity Course, 2 Freestanding playstructures (1 spinner and 1 bouncer) and Outdoor Site Furnishings.
A-3041-1
This playground has 1 Puzzle Plus playstructure, 1 Go-Hop playstructure, 3 Freestanding playstructures, 1 Turbulence series bouncer, 1 Alpine series climber, 1 Teeter-totter) and Outdoor Site Furnishings.
A-3045-1
This playground has a Puzzle Plus playstructure and Outdoor Site Furnishings.